The Philadelphia police department is warning residents to stay inside during the protests in relation to the fatal shooting of Walter Wallace Jr. Last Monday in the afternoon of October 26th, two officers were dispatched to the home of a man wielding a knife. Both officers fired several rounds, wounding Wallace in the shoulder and chest.
Footage of the incident was shared across social media of Wallace approaching the officers. The officers yelled at him to put the knife down, before shooting him. Wallace's family said he suffered from bipolar disorder during the time of the shooting. The 27-year-old was prescribed lithium to cope with the illness.
Who was Walter Wallace Jr?
Walter Wallace Jr., was a 27-year-old Black who according to friends and family of Wallace, was a family man and described as quiet. He had dreams of becoming a rapper, with some songs speaking on gun and police violence. Wallace's uncle, Rodney Everett, describes his nephew as a "good-natured person."
"I'm just disappointed that his life ended like it has. I don't think it's right. I don't think it's right at all. I don't think they did any justice," he adds. According to CNN, Shaka Johnson, an attorney representing the Wallace family, said Wallace's wife is expected to give birth to a girl "any day now." One of Wallace's sons told reporters his dad taught him to be a man and had died, but "Black lives still matter."
The Reaction
Wallace's father had this to say to protesters in Philadelphia in relation to public reactions: "I don't condone no violence, no tearing up the city, looting of the stores and all of this chaos going on." On Tuesday night's CNN's Prime Time with Chris Cuomo, Walter Wallace Sr told Cuomo and the protesters to honor his son's memory and his family grieving.
"He can't hurt a damn fly. He had mental issues."

Walter Wallace Jr. could have not been a threat to police officers in Philadelphia when he was shot and killed, his family says. https://t.co/xvgDqCeoUG

— CNN (@CNN) October 29, 2020
"All of this violence and looting. I don't want to leave a bad scar on my son and my family with this looting and chaos stuff," he said.
In a joint statement, Joe Biden and his running mate, Kamala Harris said, "We cannot accept that in this country a mental health crisis ends in death." They also condemned the looting that took place Monday night adding, "It makes the shock and grief and violence of yesterday's shooting much more painful, especially for a community that has endured so much trauma."
Protesters in Philadelphia are upset. They want to see change. National guards were deployed to deal with looting and peaceful protests that have since increased on Monday night. More than 90 people have been arrested and about 50 police officers were injured. Most of the protests are peaceful. which were followed by the clashes of police.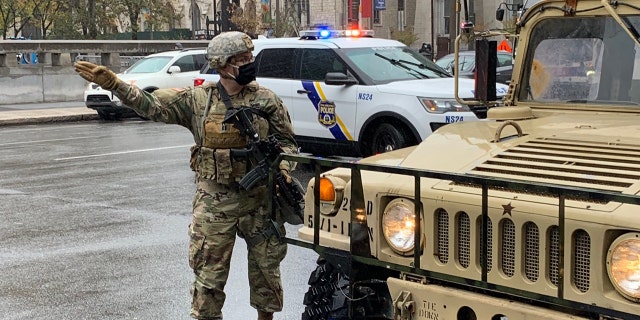 A citywide curfew was announced on Friday beginning at 9 p.m. as the city prepares to deal with unrest following Wallace's death.
What does the Mayor of Philadelphia have to say?
The mayor of Philadelphia, Jim Kenney on Tuesday night told NBC: "Last night we saw further evidence of the anguish that the Black and Brown residents who struggled their entire lives under systemic racism."
National Public Radio reports that roughly around a quarter of deaths with police interaction have some type of disability, either mental, physical and sometimes intellectual. In 20 percent of mental health calls, police are the first responders on the scene. When it's done right, mental health crisis teams remove police from responding all together. "We need to build community resources that can respond and take care of a crisis without having law enforcement involved," says executive director of Crisis Intervention Team International. They focus on trainings between police officers and people in a mental health crisis. If you keep throwing money at training officers, and that's all you do, and not address the system around mental health care, you'll continue to have nothing but problems," he adds.
It's interesting to speculate whether or not Wallace would still be here if more trainings or community based efforts were implemented into the systems that protect us.