Summer is here! In the first, almost post covid summer, there is a lot to prove. Lizzo deemed it a "fat girl summer" and I cannot agree with that sentiment more. A lot of people have expressed that they have gained the "covid 15". Weight gain was sure to follow being forced to stay at home. What could we do but binge watch and binge eat? Even with a few (or more than a few) extra pounds, confidence is still key. There are plenty of looks that can accentuate every shape. It is a blessing you made it to 2021. This year especially is not the time for body shaming yourself. I decided to wear more form fitting clothing this summer. Also, I'm pleased to say that I actually bought some clothes this year! I have chosen my favorite pieces so far. Only muumuu if you want to! Happy shopping!
Tabria Majors Fashion to Figure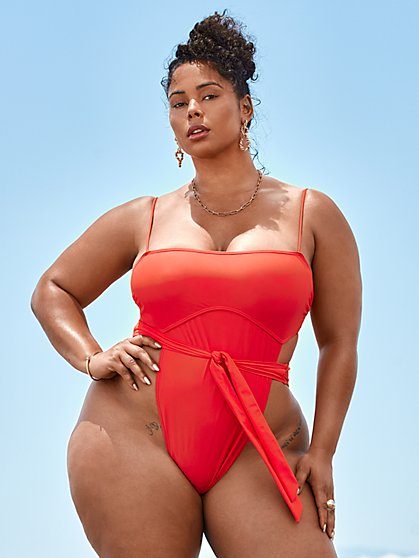 This has been the year of Tabria Majors. First, she went viral for her unbelievable Beyoncè tribute. Then, she had a launch with Boohoo (more on that later). Finally, she launched the summer with a new swimwear collection with Fashion to Figure. I discussed the first launch last year. That can be viewed here. The second launch came with an action sequence! Tabria plays a sexy spy in her promotional short film for the collection. The swimwear absolutely held up to the hype. While there are other show stopping pieces, my ultimate favorite is the red-orange monokini. The ultra high cut silhouette is the perfect balance of fun and risquè.
Tabria Majors Boohoo
The Tabria X Boohoo drop was her first launch of the season. Her launch was where clubwear meets athleisure. My favorite piece was the dress pictured above. It was initially pictured as a dress with a removable peek-a-boo sleeve. I was slightly disappointed as the dress did arrive sans sleeve. However, once I tried it on, I was in love. This is a micro mini to say the least. It is so comfortable and sexy. It is a perfect club dress! As long as you do not plan on sitting, of course.
FashionNova Flare Jeans
The skinny girls are bringing back flare jeans. I had to be a part of it the moment I saw it. FashionNova is the equivalent of a cuss word to me. I have extreme disdain for their business practices. Unfortunately, they were the ONLY online shop that got the flare jean right. These jeans are stretchy and high waisted. Meaning they will be perfect with a crop top. It also means they give a carefree 70's flower child vibe. Since the bottom is so wide, it creates a flattering silhouette for your legs. The length is also tall girl friendly! These are a perfect jean for heels.
Rebdolls x Nao and skater dress

Rebdolls is such an underrated plus size brand. They sell straight sizes but make everything up to 5X. My usual gripe is that the plus size options never match the straight size's version. Even if intended to be identical to the original. Rebdolls creates everything exactly the same in every size! Their knit fabrics are sturdy. They do not lose shape as they expand. They also don't magically become see through in the light. The only downside to Rebdolls is that they sell through very fast. My picks are the skater dress and anything from their collaboration with influencer Nao. Their blue cheetah print is a Josie and the Pussycats moment. Nao's collection gives 90's hip-hop video vixen, but in plus size form.
SavageXFenty Robe
Creating this list, I have realized my style for the summer is firmly stuck between 70's silhouettes with a splash of 90's flare. I trace that aesthetic back to one purchase. The SavageXFenty VIP box. Inside was a beautiful 70's floral print robe. The 90's influence is present with the corset back. The second I tried it on, I knew it would be a perfect piece to throw over tanks or mini dresses. It is such a shame that they discontinued most of their robes. It was truly the highlight of the brand. The other is SavageXFenty's versatility. Repurposing their lingerie items into daily wear is an easy way to create more summer looks.